English below
cARTed Junction Automne 2017
Laramière
Samedi 21 octobre 2017 à partir de 18h.
Accueillie par Sandrine Gautheur et Florian Zéphirin
dans le sud-est du Lot, aux frontières de l'Aveyron et du Tarn-et-Garonne
au coeur du village de Laramière, près de Villefranche-de-Rouergue
Informations pratiques

Itinéraire :
Autoroute A20 Direction CAHORS
(depuis le nord, gratuite jusqu'à Brive)
Sortie 58 Direction LALBENQUE

Adresse :
Le Bourg - 46260 LARAMIERE
Sandrine et Florian ZEPHIRIN - 06 42 47 39 06 et 09 51 84 24 67

Dans le bourg, prendre direction BEAUJOT, suivre le fléchage "cARTed"
Sinon demander "la maison jaune" !

Hébergements :
Dortoir sur place (prévoir sac de couchage)

Gîte "Le bonheur caché" à Moutigues (2km)
40e la nuit, avec deux lits double et un clic clac
Réservation préférable au 05 81 42 06 27
L'accueil de Sandrine et Florian à Laramière
cARTed Junctions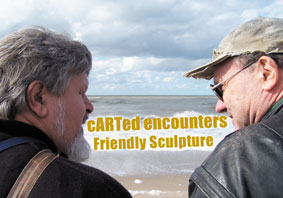 cARTed grandit de pro­che en pro­che sous for­me de chaî­ne ar­bo­res­cen­te. Le voy­age dans la col­lec­tion re­pré­sen­te un sur­vol du tis­su des re­la­tions ami­ca­les qui sont la base du ré­seau.
Approches de cARTed :
• Presentation
• Biography
• e.cri(t)s
• Top cARTed
cARTed Cooperation :
• Voyage de Taches
• Homer's Odyssey
COLLECTION
cARTed grows by word of mouth amia­bly bran­ching out­ward. Thanks to tra­vel and mo­ve­ment which create the op­por­tu­ni­ty for ma­ny new con­nec­tions for eve­ry one, the ga­the­rings ma­te­ria­lize the inter-lace­ment of fri­end­ly re­la­tions which are the foun­da­tion of the net­work.