The cARTed Picture Show
Sculpture Amicale - Friendly Sculpture
cARTed Tour in Germany
59° rencontre
Junction Cards :






accueil / Greeting :
R. A. Westphal à Euskirchen
Rencontre de 3 jours
FzKKE
2001
The Series of the year :
106, 107, 108, 109, 110, 111, 112, 113, 114, 115, 116, 117, 118, 119, 120, 122, 123, 124, 125, 126, 121, 127, 128
The special Series :
- 111 Franco-Allemande
- 116, 117 Mini-Cartes et Marque-Pages
- 121 Les mêmes fleurs que ta voisine
Encounters of the year :
Cellettes, Euskirchen, Paris, Siouville & Tourlaville, Besançon, Marseille
The Events :
- cARTed Tour à Euskirchen
- 1° Biennale de Châteaux de Sable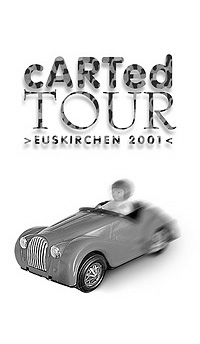 Le visuel de la rencontre.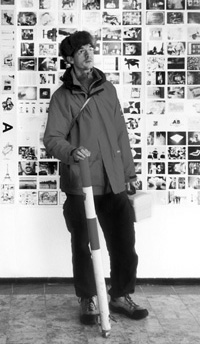 Olivier Labbé au FzKKE.
COLLECTION
Pour la sortie de chaque série de cartes une rencontre entre les participants et d'autres artistes est organisée, toujours dans une ville différente.
FzKKE : Förderkreis zeitgenössischer Kunst Kreis Euskirchen.
C'est le siège et le lieu d'expo de l'association créée par Rüdiger Abshalom Westphal.
cARTed Tour : Rencontre de 3 jours hors de France pour la sortie d'une série de cartes internationales. Aux artistes français, cARTed propose la carte + le voyage.
Pour les artistes français le voyage est organisé en mini-bus. Le rendez-vous du départ est donné à Caen au petit matin pour une arrivée à Euskirchen, près de Cologne, en soirée. Rüdiger a préparé un pot de bienvenue avec une große collection de bières du pays. Le soir même il nous offre une première visite commentée d'Euskirchen, avant l'aménagement du dortoir derrière la salle d'expo.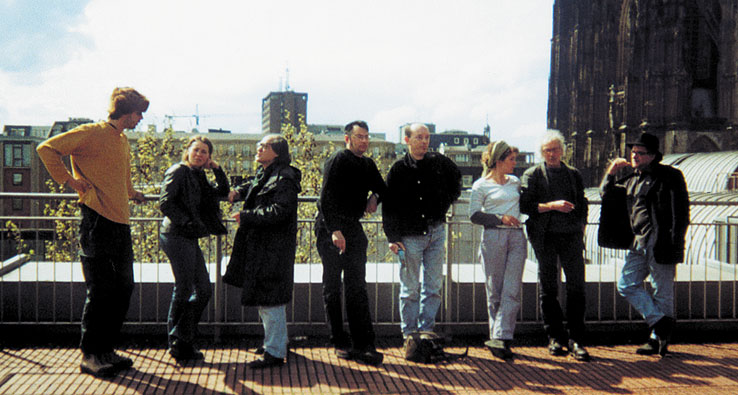 Terrasse du Musée Ludwig à Cologne, Olivier Labbé, Sophie Aumont, Kim Dien Phan, Alain Buhot, Pascal Pithois, Sandrine Gautheur, Bernard Martin & Manuel Vaz.

L'installation cARTed, Rüdiger Abshalom Westphal & Christian Alle devant la galerie.
Participants :
German artists : Wieland Grommes, Yegor Kovalchuk, KunstKeller, Jürgen O. Olbrich, Walter Roos, Erika Schalper, Stefanie Seltner, Patti Teutoburger, Britta Tomaschko, Inge van Kann - French artists : Christian Alle, Sophie Aumont, Alain Buhot, cARTed, Bernard Martin, Kim Dien Phan, Manuel Vaz, Collectif Voskhod - Guides : Sandrine Gautheur, Carine Ladoire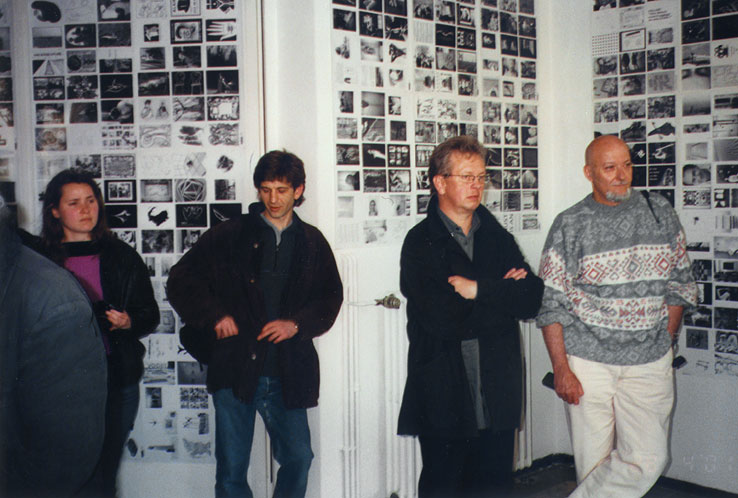 Sophie Aumont, Yegor Kovalchuk, Jürgen O. Olbrich & Christian Alle pendant le discours de Rüdiger en ouverture du vernissage.

Manuel Vaz, Carine Ladoire & Alain Buhot en route vers Euskirchen
Bar à Cologne, Kim Dien Phan, Olivier Labbé, Manuel Vaz & Bernard Martin
Pascal Pithois & Jürgen O. Olbrich
Raphaël Maze, Sophie Aumont & Pascal Pithois pendant le rituel des signatures
Signature de Walter Roos
Signature de Bernard Martin

La salle de vie dans l'atelier et l'installation dans la galerie